Microsoft Graph's Cloud Communications APIs add a new dimension to the way your applications and services interact with users through a variety of communication-related features, such as calling and online meetings. Grow your business by accelerating the way your customers' needs are met and the way your employees collaborate with each other.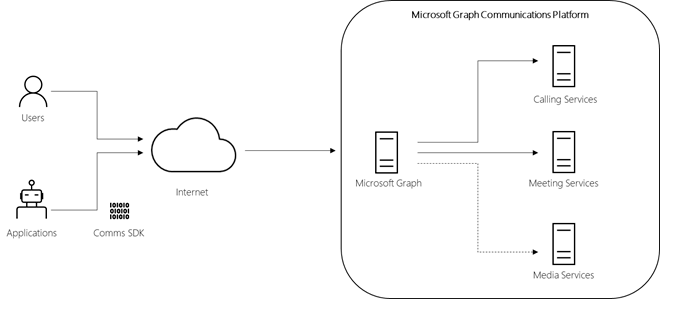 Handling incoming calls
Your users may be overloaded if they receive a large number of business calls and it is not possible, or productive, to answer all of them. A bot can act as a front-end assistant and handle these calls by rejecting what looks like spam calls, and redirecting (forwarding) specific calls to another number.
Simplifying the customer service experience
Whether it's a large helpdesk or a small shop, it can be difficult to manage multiple customer requests, especially if you have no context for the problem they are trying to solve in advance. Handle incoming customer calls via an interactive voice response (IVR or RGS) system, where a bot initially interacts with them.
When a customer is prompted to enter a response from the bot, the customer can press a key on their keyboard corresponding to their selection. The bot can then collect the voice frequency dialling (DTMF) from the customer.
To create a more intelligent interaction between your customers and your robot, when a customer is prompted to enter an answer, they will be able to speak directly about what they need help with.
Integration with a natural language processing service means that the customer's words can be analysed for feelings. The bot can then respond to the customer's needs accordingly.
Platform capabilities
Here are the main capabilities of the platform that Microsoft has made available as part of version 1.
Call
You can create integrated solutions:
Peer-to-peer (P2P) or 1-1 Calls-A configuration in which your application interacts directly with a Microsoft Teams user; for example, a helpdesk or customer service assistant who answers simple questions.
Group calls - A configuration in which your application interacts with two or more users (with at least one user using Teams); for example, a contact center bot routing calls to agents using Teams.
Two types of media choices are available for these calls:
Application-hosted media - This is also local media. Using the multimedia SDK, a raw media stream (audio or video) from a P2P or group call is available to the application for in-call and post-call processing. For example, a call recording bot can record calls, store the file in different Cloud and process it using cognitive services to transcribe, translate the call or detect fraudulent activities in the call.
Service-hosted media - This is also a remote media. In this case, the application uses Microsoft Media Services to play the audio file. For example,

an IVR bot can provide a

link to a

prompt file

for the

communication platform to read the file

file during the call.
You will needapplicationpermissions to be granted by the Tenant Office 365. Once permissions have been granted, you can control the following two main resources using these methods:
The following examples are an excellent way to become familiar with these methods:
Online meetings
You can embed online meeting generation controls in your websites and use this API to retrieve a meeting link. For example, a hospital offering telehealth services can embed controls in its website to generate a team meeting link for its patients to meet their doctors (and vice versa) online.
You will need user permissions to use these APIs. Once permissions have been granted, you can control the following resource using these methods:
Even simpler. Decide to reach your goals by trusting our experts.