Turn client relationships into sales performance!
Close sales quickly and effectively with Dynamics 365 for Sales. This solution uses embedded intelligence in every transaction to enable you to anticipate your customer's needs, offer a personal service and maximize your sales revenue.
Take your business to the next level
Use embedded intelligence and event-driven sales processes to maximize your revenue and limit purchasing costs.

Drive your sales performance forward by focusing on what is important
Optimize the performance of your sales team by reducing unnecessary tasks and allowing your team members to focus on the task at hand.

Work smarter to achieve your goals faster
Close sales more quickly with efficient working practices, collaboration and contextual information provided by your sales management software.
Elevate your performance with smart sales features
Give your sales team more options with predictive analytics, embedded intelligence and automatic lead scoring. What is more, thanks to the insights provided by the Sales application and Office 365, your team has an overview of the client relationship and the tools it needs to reach an optimal outcome.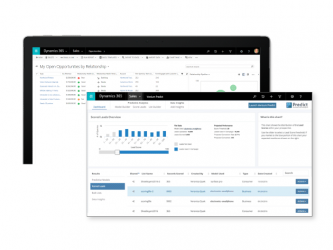 Tap your team's resources
Leverage your team's knowledge and experience by using reports on meetings, events and sales documents with real-time collaboration features. Use OneNote in your sales management software to take notes and share your work.
Enhance your sales team's ability to focus on the right leads, contacts and opportunities whilst developing your sales. Dynamics 365 for Sales provides social media intelligence, up-to-date business data and an integrated sales process to guide your sellers so they know when and how to reach out to customers.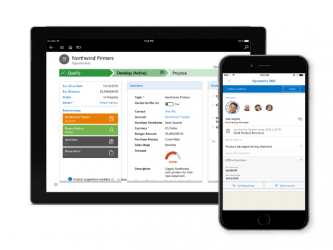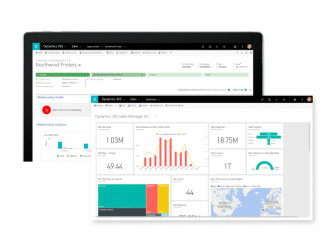 Motivate your sales team by seamlessly linking information, communication and collaboration. Set realistic goals and analyze your results with easy-to-use dashboards. The integrated help feature lets you fine-tune your team's actions to bring them in line with best practice. What's more, you can foster a healthy, competitive spirit in your team with game features that put the fun in making sales.
The services we offer
…which are constantly in demand!
Comprehensive analysis of whether you need to move to the Cloud

Comprehensive analysis of whether to migrate your on-premises Microsoft Dynamics CRM servers to a host

Full integration of the Dynamics 365 solution

Business analysis and specification writing

Documentation.
We have helped many satisfied clients to boost their sales and increase their revenues.
Talk to us about your project
021 806 14 15