Turn your customer relationships into sales!
Sell better and faster with Dynamics 365 for Sales. This solution integrates digital intelligence into every transaction so you can anticipate your customers' needs and provide them with a personalised service that strengthens the relationship and increases sales.
Grow your business in a frustrating way
Use integrated digital intelligence and automated business processes to maximise revenue and minimise acquisition costs.

Optimise your sales by focusing on the essentials
Optimise the performance of your sales team by reducing unproductive tasks and helping your salespeople focus on the essentials.

Work more efficiently to succeed faster
Close sales faster through efficient working methods, collaboration and the use of contextual information from your sales management software.
Benefit from smarter business features
Empower your sales team with predictive analytics, digital intelligence and automated lead scoring. Plus, with signals from the Sales app and Office 365 that help them assess their customer relationships, your team can leverage all the tools they need to decide what to do next.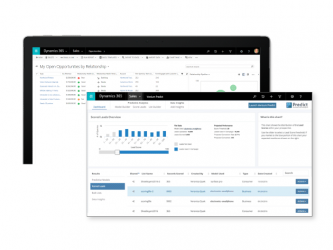 Draw on the knowledge and experience of your team through customised meeting minutes, events and business documents with real-time collaboration features. Use OneNote in sales management software to take notes and share your work.
Help your sales team focus on the right leads, contacts, and opportunities while growing your sales pipeline. Dynamics 365 for Sales provides you with data from social networks, up-to-date company information and an integrated sales process to help your salespeople know when and how to engage with customers.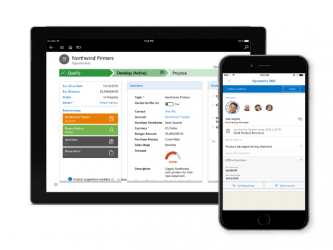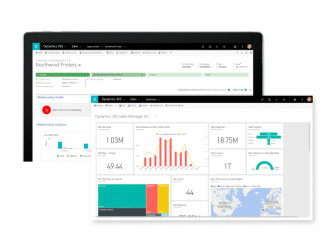 Motivate your sales team with a perfect combination of information and collaboration. Easy-to-use dashboards allow you to set meaningful goals and monitor results. Built-in help allows you to adjust your team's behaviours based on best practices. In addition, gamification promotes positive competition.
The services we offer
...and for which we are regularly called upon!
Audit with proposal force to go or not to the Cloud,

Audit with proposals for a migration of your Server OnPremise Microsoft Dynamics CRM to a hosting provider,

Full integration of the Dynamics 365 solution,

Business analysis and drafting of specifications,

Documentation.
To the delight of our customers we have enabled them to increase their sales volume and turnover.
Let's talk about your needs.
021 806 37 15