In previous articles, we have been able to discuss the topic of collaborative tools, which are intended to facilitate exchange, communication and productivity activities within organisations of all types. Articles such as this one have provided a generalized view of the existing possibilities and functions, especially within the products of Microsoft 365.
Today, we are going to take a closer look at Microsoft Teams, which for a few years now has been turning the approach to the notion of integrated collaborative tools (also known as Unified Communication) upside down. Let's review the possibilities of this extraordinary product.
We exchange...in teams!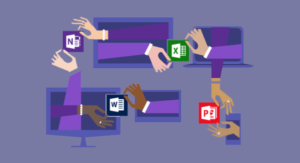 It is important to look back at the various changes that Microsoft has undergone over the years, on its desire and need to have interfaces linked to communication and collaborative management. For those who remember, at the time of Office 2007, Microsoft launched its Communicator, a chat system integrated with Office (need to deploy a Communicator Server, linked to an environment Exchange). Voice functions could only be used between environments in the same domain. This solution was itself the evolution of an older product known as NetMeeting. It was not until Office Live Meeting that we had a solution that made it possible to have an environment that included audio with VOIP and video, as well as fully secure document exchanges, within the same interface.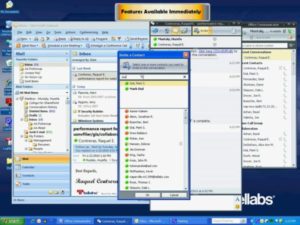 The following iterations, such as Lync and Skype For Businesshave allowed Microsoft to evolve its offer, bringing also the possibility to create complete telephone management systems (notably with the possibility to manage SIP Trunks). This approach requires to have dedicated servers within its IT infrastructure. Skype For BusinessThe SIP Trunks solution, being integrated to the Microsoft 365 offer, has allowed to start the dematerialization of the telephone and collaborative needs, towards the cloud.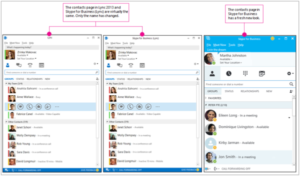 In order to understand what a SIP Trunk is and the difference between analogue telephony, here is a video:
Microsoft Teams was born in 2017. At that time, the main competitor in the collaborative space was Slack. The goal being to bring a complete user experience, entirely based on SaaS and with ease of deployment within companies. Here is the interface of the competitor Slack: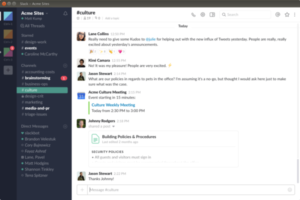 Slack does not include a phone feature. There is a need to better organize collaboration within the Office 365 suite, Skype For Business being more of a video-conferencing and telephony tool. Although document sharing or the ability to display one's screen are present functions, some expectations of consolidations of other Microsoft solutions are overdue and this is where Teams meets these needs. The administration and management of Teams resources is done through Microsoft's cloud , in Office 365: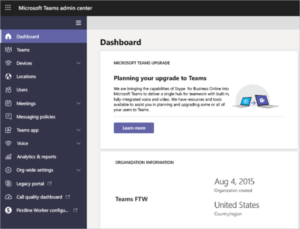 For those who are not (yet) familiar with Microsoft Teams, here is a brief video presentation:
Here is a condensed training on Microsoft Teams, for beginners:
Now that we have seen the main functions of Teams and its interface, we will talk about the integrations that Teams can offer. One of them is the use of telephony in Teams. For this function, we are not all equal in the countries that can use Teams. In Switzerland, you will have to go through local operators (Sip Trunk). To do this you can trust specialists like Lambert Consulting to guide you in the telephony solution Teams best suited to your business.
Here is a video presentation (in English) on telephony within Microsoft Teams:
In short... can we work together?
Microsoft Teams represents a major step forward in the activities related to Office 365. The possibility of integrating with third-party elements or inviting external collaborators to your environment are just a few of the features that allow Microsoft Teams to claim a place of choice in collaborative tools for companies and organizations of all sizes. It should also be noted that Teams is also available free of charge (with certain limited modules) and that this makes it very easy to start a work environment with a small structure. It is also important to specify that the Microsoft client Teams is available on all OS (Windows, Mac, Linux, Android and iOS).
Author: Michel Aguilera
We share your challenges, we accompany your changes
If you have a question or a suggestion, we are at your disposal to answer it by email or by phone.