There is a wide range of needs around device management, and every organisation is different. It is therefore important to take stock of these through a detailed analysis.
Choosing the right vendor and solution can be a complicated process that requires extensive research and often comes down to more than just the tool and its technical capabilities. To make your search easier, we have profiled the VMware Workspace One (formerly Airwatch) and Microsoft Intune / Microsoft Endpoint Manager solution.
Microsoft Intune and Workspace ONE are both categorised as "Unified Endpoint Management (UEM)" products.
Companies want to equip themselves with a UEM solution to achieve various objectives. First of all, to industrialise devices, to reduce management costs, to keep control over company data (security), to unify the management of devices (smartphones, PCs, etc.). These new modern tools allow activities such as remote wiping, account locks, application control, and even container management to separate personal and corporate data. 
Companies are turning to UEM solutions as they seek to unify the functionality of their fleet management tools and want to offer high-performance responses with minimal operational overhead.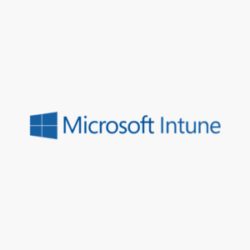 Microsoft's solution can be used to manage not only
Windows 10 and
Mac terminals, but also Android and iOS systems.
Intune integrates with other Microsoft services such as Azure, Microsoft 365 (including the EMS suite). Companies also have access to the Microsoft Graph API task automation processes.
This solution has 3 major advantages: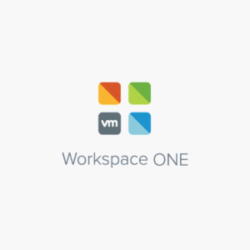 VMware Workspace ONE / WS1
VMware Workspace ONE is a digital workspace platform that enables the delivery and management of any application on any device. It is based on VMware AirWatch technology that
supports integrations with existing IT infrastructures. It can also be integrated with a third-party repository and content management interoperability services (CMIS)
Integrated access and identity management (VIDM)

Cross-platform application management (unified portal). Microsoft, has created native applications for their respective operating systems, while the VMware application experience remains consistent across all operating systems, with the application being the same whether it is accessible on Android or iOS.
Unified device management (fixed, mobile, hybrid) including modern Windows management
Integration within the overall VMware environment. This last point may be of interest if you have application and desktop virtualisation projects.
Disadvantages :
A common concern is that the Workspace ONE console is cumbersome and overly complicated. Administrators have trouble locating features and, in most cases, do not need at least a quarter of the features they pay for.
Unlike Intune, Workspace One does not support co-management with SCCM, which is problematic given that it is difficult for a large company to completely abandon SCCM for a Modern Management tool. The transition to these new tools takes several years and the co-management mode is by far a must if you want to reduce the risks associated with such a migration.
Microsoft Intune
On the Microsoft side the costs are unbeatable if your company is already (or has planned to be) on a Microsoft365 (M365) subscription, as Intune is included in this suite. These companies will benefit from all the licenses and features of Intune.
The M365 price ranges are:
F1 - 10$ / user / month
E3 - 32$ / user / month
E5 - 57$ / user / month
or
Microsoft 365 Business (for companies with less than 300 employees) - 20$ / user / month
VMware Workspace One
Workspace ONE is one of the few solutions UEM that charges more than the industry average (at $3.78 per device per month).
Rising to prominence in just 2 years
If we analyse the latest Gartner comparisons, we notice a big difference between 2017 and 2019, which is the rise of Microsoft Intune. We can also say that this is not going to stop given the investments made by Microsoft and the capacity they have to do so.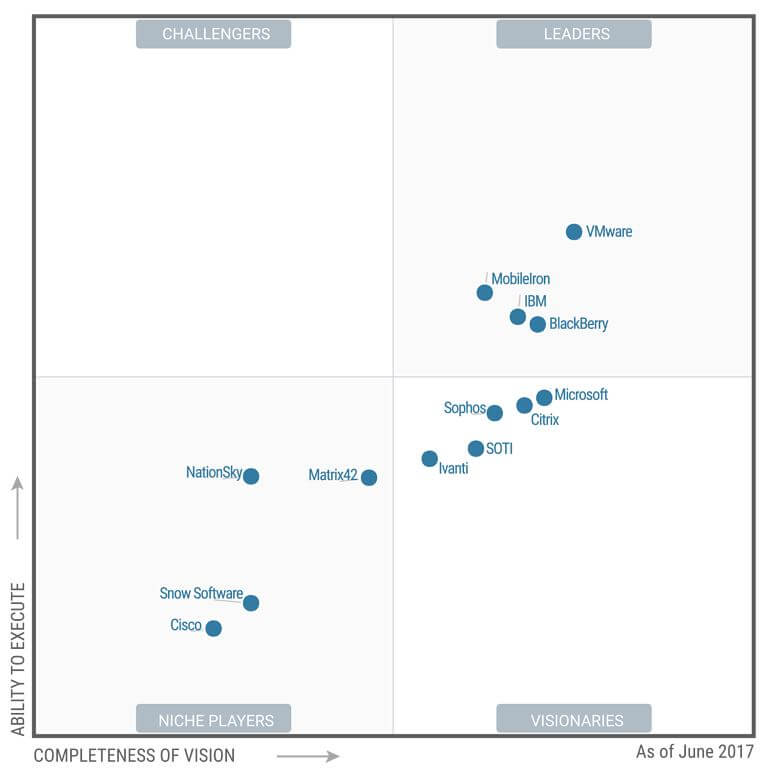 How are the reports in Intune or Workspace One ready to use? Is much more reporting development needed or is the reporting already excellent?
Intune has better reports than Workspace One - Airwatch. They both have ready-made reports, but if you want to highlight a specific item, someone will have to modify the existing reports, or create new ones.

What are the management/maintenance costs that you observe after the implementation of these solutions? Are we looking at solutions with a cheap cost of entry, but with more expensive costs in the long run?
If you have already invested in Microsoft 365, using Intune makes more sense, you can simply change your license type, and you will be set up as part of your subscription. The Workspace One solution has costs related to the features you want to use. You have to be careful about managing recurring costs.

Is a dedicated staff member needed for feature management and development?
Depending on your needs, a dedicated person may be required. The definition of profiles, configuration and deployment can be delegated to our consultants, and then the documentation of the processes can be passed on to your team. We recommend that one person in your team becomes dedicated to the UEM part, and that this person obtains certification for the solution you choose.
We share your challenges, we accompany your changes
Lambert Consulting recommends an in-depth analysis for any company wishing to invest in a UEM solution. Whether you have a question or a suggestion, we are happy to answer it by email or by phone.