The Lync switchboard operator for Skype for BusinessLync & Office 365
Attendant Pro is designed to make transferring and managing calls as efficient as possible and common tasks can be done with a single click. Definable shortcuts mean that the experience can be optimised for the user.
The user interface is similar to Skype for Business and Lync, so users already familiar with the Microsoft user interface will be helped with Attendant Pro. This means less training and transition time to Attendant Pro.
The software literally takes seconds to install. Since there are no component requirements server, this translates into less IT involvement in the deployment process. If IT wishes to deploy the settings centrally, a standard GPO can be used, building on existing IT expertise.
Because Attendant Pro works side-by-side with the Skype Enterprise client, your users don't have to give up any functionality: screen sharing, video, meetings and group instant messaging work as they always have.
Full support for the device
Attendant Pro supports Lync Phone Edition with USB Better Together, Lync Qualified IP phones such as Polycom VVX, Yealink and Audiocodes HD that support Better Together over Ethernet. All other USB-optimized Lync handsets Skype for Business or Lync optimised USB headsets are supported with Attendant Pro.
Make console operators more productive, efficient and satisfied.
Complete your Lync / Skype for Business Enterprise Voice solution with minimal IT impact with a one minute installation and no additional servers.
Select the Lync / Skype for Business device of your choice to pair with Attendant Pro for zero compromise.
Your key Lync users / Skype for Business users benefit from the full experience and functionality of UC .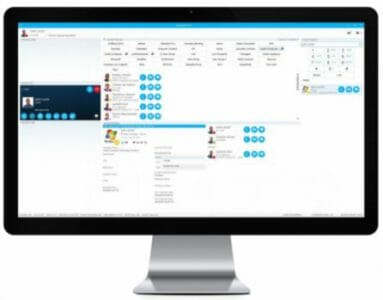 Tell us about your project!
If you have a question or a suggestion, we are at your disposal to answer it by email or by phone.